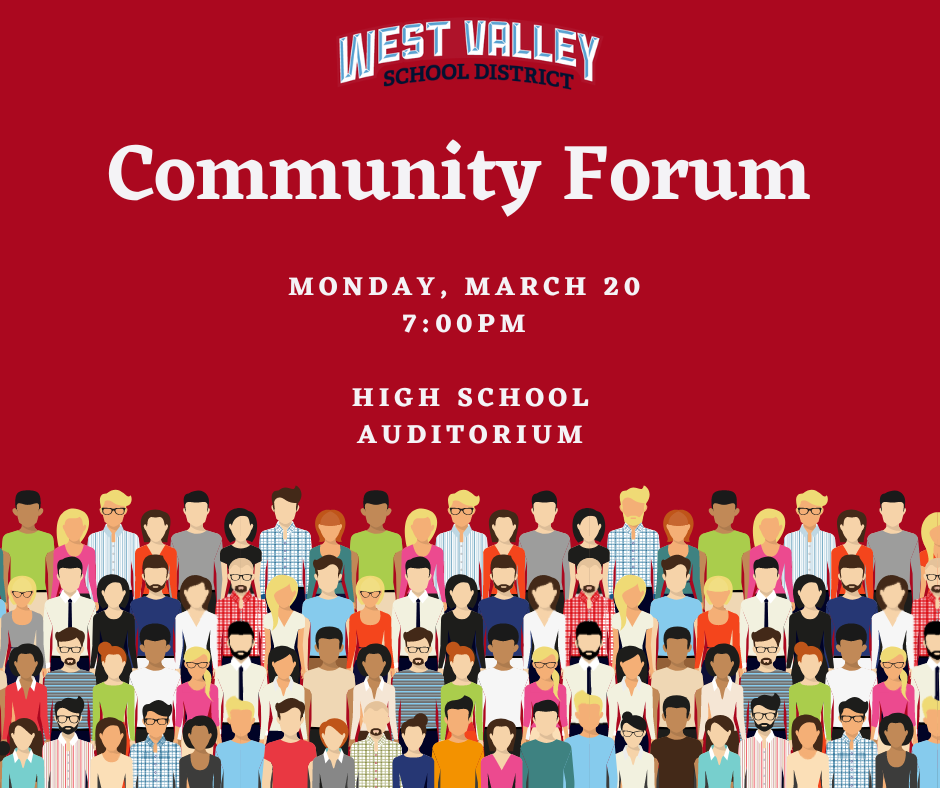 Join us for a Community Forum on Unused 2019 Funds
Mar 9, 2023
The West Valley School District Board of Directors will hold an additional community forum on March 20 at 7:00pm in the High School Auditorium to gather feedback from the West Valley community on the unused proceeds of its 2019 bonds.
Meeting 1: Review the project list and the associated costs. Board discussion regarding the community forum and setting a date for Meeting 2.


Meeting 2: Hold a community forum to allow for community feedback.


Meeting 3: Based on community feedback, provide a decision regarding the use and/or the defeasance of the remaining bond funds.


Defease all:
1) If the decision is to defease all, no need for further discussion and we move to Meeting 4 and have bond counsel draft a resolution to begin the process for defeasance.


Partial or No Defeasance:
1) Specify amount to defease.
2) Discussion of the list - Which projects to fund and pursue - Board majority vote.
3) Discuss resolution process and verbiage wanted.
4) Move to Meeting 4.


Meeting 4: The Board adopts a resolution that sets a public hearing. This resolution, which will be prepared by bond counsel, sets the public hearing date, time and location to consider state or local circumstances and to receive public testimony. The resolution also directs that notice be given of such hearing and of a subsequent meeting of the Board when the Board will adopt the resolution approving the proposed alterations.
Meeting 5: The Board conducts the public hearing; The purpose of the hearing is to afford individuals wishing to speak an opportunity to present information and opinions to the Board regarding whether certain state or local circumstances should cause alterations to the specific expenditures from the Bond Proceeds and/or State Financing Assistance.


Meeting 6: The Board adopts a resolution approving the alterations.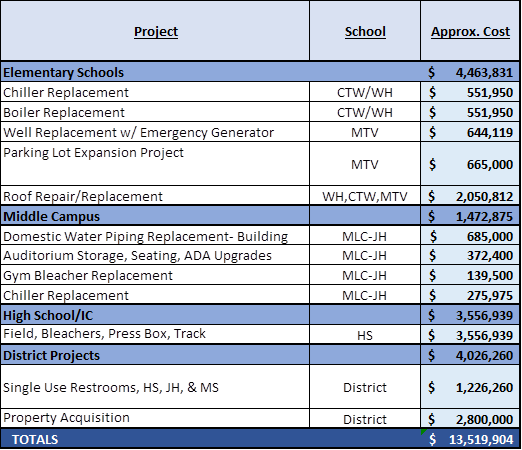 ---