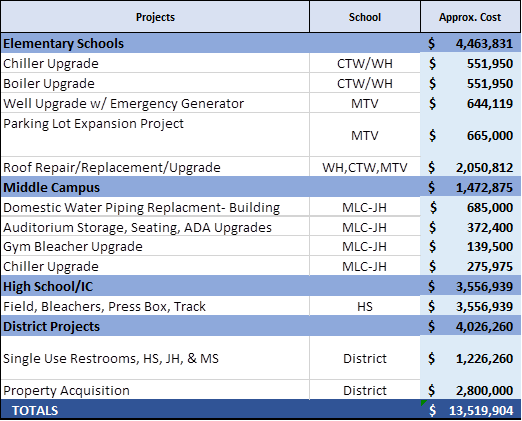 A look at the capital projects proposed by the Board, and a brief explanation as to why
Jun 13, 2023
Due to significantly lower than anticipated construction costs and other factors, such as an expedited construction schedule, the District has remaining bond funds and state matching funds from the 2019 bond issue that constructed Apple Valley and Summitview elementary schools.
On June 20, 2023, a Special School Board meeting will be held to conduct a public hearing for community members to provide input on alterations to the original bond issue. The public hearing will be held at the High School Library at 7:00 pm.
A School Board resolution has identified the following:
make various capital improvements throughout existing schools and facilities
acquire land as sites for new and expanded facilities
legally defease a portion of the District's outstanding funds
The following is the list of capital projects proposed by the Board of Directors and a brief explanation as to why these items were selected as a priority. This list was developed based on community input that was received at three community forums that were held during the 2022/23 school year, including:
Tues, October 4, 2022 at the West Valley Fire Station
Tues, October 18, 2022 at the Harman Center
Mon, March 20, 2023 at the HS Auditorium
Overall, the Board is focused on student health and safety as well as considerations for future growth (property acquisition).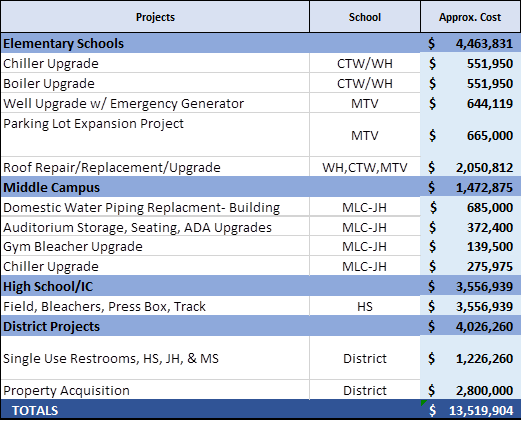 Chiller upgrade and boiler upgrade at Cottonwood and Wide Hollow – Current units are aging and need to be upgraded to provide energy saving with improved performance. This will provide a healthy learning environment for students and staff at each school.
Well upgrade at Mountainview – Current well is aging and unstable. New upgrade will provide consistency of water source for the school.
Parking Lot Expansion at Mountainview – Current parking availability is inadequate. Expansion will provide more room for student drop-off before school and student pick-up after school.
Roof repair/replacement/upgrade at Wide Hollow, Cottonwood, and Mountainview – The District contracted for a review and inspection of roofs. The roofs at these three schools were identified for repair/replacement. Without these repairs, there is the potential for damage to the schools.
Domestic Water Piping Replacement at Junior High – Pipes are eroding and need to be replaced.
Auditorium Storage, Seating, and ADA Upgrades at Junior High – For the safety of students, staff, and community members who perform and attend events at the Junior High auditorium, upgrades are needed to comply with the Americans with Disabilities Act.
Gym Bleachers Replacement at Junior High – The current bleachers are aging. Due to safety considerations, the bleachers in the junior high gym need to be replaced.
Chiller upgrade at Junior High – Current units are aging and need to be upgraded to provide energy saving with improved performance.
Field, Bleachers, Press Box, and Track at High School – Current conditions of the track and field are marginal. Facilities need to be upgraded for student safety.
Single Use Restrooms at High School, Junior High, and Middle School – Community input requested a remodel of bathrooms at the schools to provide students with greater privacy.
Property Acquisition – With increased growth in West Valley, the Board of Directors have identified property acquisition as a priority. Increase growth results in less property available in the future that can be utilized for District use.
Community members are invited to attend the Public Hearing that will be held on Tuesday, June 20, 7:00 pm at the High School Library.
---